Jali-Jali: CNY-Approved Outfit!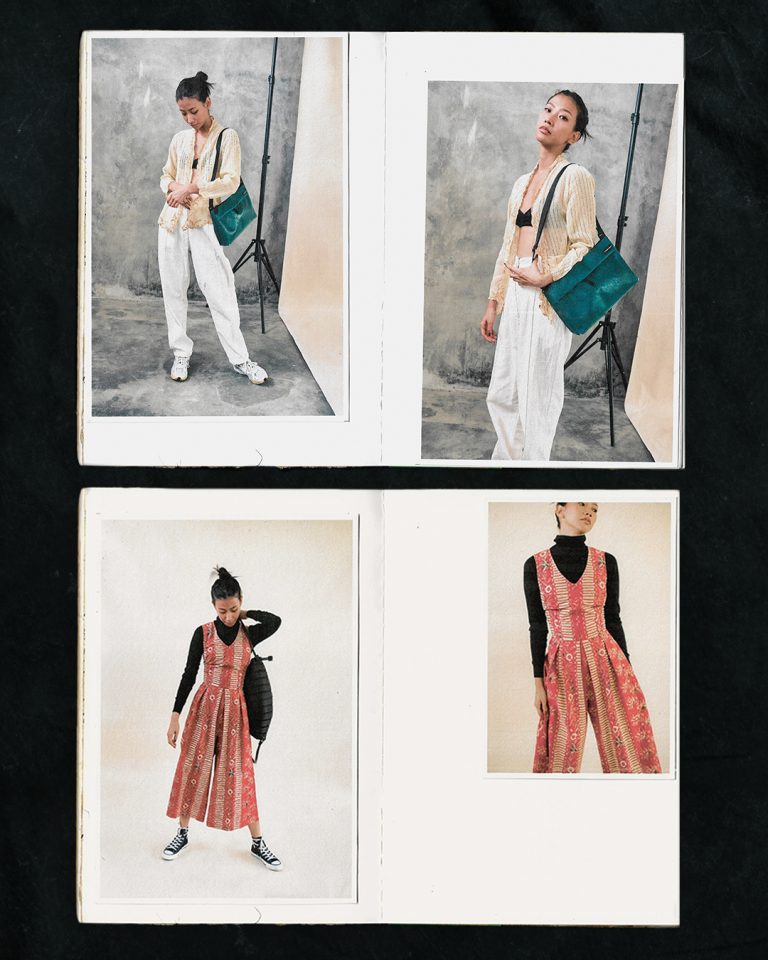 When the moon is full and the rain is drenching, that marks the beginning of spring and the beginning of New Year based on the moon calendar. For many Peranakan, this is the time of celebration; of binge-eating Mie and receiving Ang Pao. This is also the time to gather with family – at home or far from home.
Find some Chinese New Year – approved outfit for your celebration. With main attention on top, you won't need to worry to not
stand out during a virtual CNY!
An Easy Way Out
Ah, it's the time of the year? But somehow you lost your Qipao and you forgot about the family gathering? No worries! Swap your loungewear with this mock-neck dress. The straight silhouette gives you the Cici-vibe instantly, while the cream-colored sandal heels gives you an elegant lift. Finish with a paper fan and you're ready to serve the look!
Kue-Ku Totsy Red
Covered-up, but playful? We've got your back. Play around with a red jumpsuit, a pair of sneakers, and a basic turtleneck for a grandma's approved look. It's fun and sweet like your favorite Kue Ku and classic like the lucky red color! PS: Also great if you need to babysit your sister's toddlers.
Classic Jali
A staple for all, Qi-pao inspired tunic is all you need for this year of Ox. Get it done with a pair of beige trousers that whispers "Yes, I wore this for a date" and a classic beaded purse!
Fuzz Free
If you're not into the classic qi-pao dress, a qi-pao top is just fine. Pair it with a drapey-posh looking trousers and a relaxed bag, this look allows you to move freely while looking hang out-ready. As a plus, anytime your fuzzy aunts ask too much about your life, you'll be ready to get away in seconds!
Here For A Good Time and A Long Time

If you need to spend the whole day with your fam at home, eating Mie and mooncake till the rain pours down, give it a shoot for this relaxed look. Swap your Qipao with a sleeveless shanghai collar top, baggy jeans, and a pair of bakiak inspired sandals Complete the look with a tote bag to carry extra moon cake and Angpao!
Encim Revival

So, you want to rock that vintage Kebaya? We get it, girl. Whether it's for virtual gathering or at home, match the vintage one-tone Kebaya Encim with relaxed cotton or linen pants, sneakers, and a street-style approved shoulder bag. Once the gathering is done, wear your Kebaya as an outer and you're ready for the beach!
Peranakan Pride

Being Peranakan could be confusing. Should I go full-red like the classic embodiment of Chinese New Year or should I keep it local? You know what, why not both? Embrace your love of local pride with this Kutubaru-inspired top and a Peranakan batik motif like this signature Jambi style batik. Pair with breathable knee-length trousers, and a chic beaded bag for an chic-y-chic touch!
Pretty in Pink

There are times when you just don't want to settle for classic. In this case, go bold and by bold, we mean PINK. It's the color that doesn't just resonate with something pretty, but also resembles Fortune for Chinese New Year as it's one of the shades of red. So, pretty please, pick a pink flouncy skirt and a Pekalongan-style batik top, finish with nice sandals. Oooh la la!
Post CNY-Lunchie

The day after CNY, there will be some more Imlek lunch with all those leftover noodles and cake. The big question here, "Are you still gonna dress up?". If your answer is no, then this look is what you're looking for. Dress down for the casual Imlek-lunch with a basic tee, totebag, and sure, a comfy pair of sneakers. You are all set to slurp those leftover noodles!