Port of Call: Singaraja si Sunda Kecil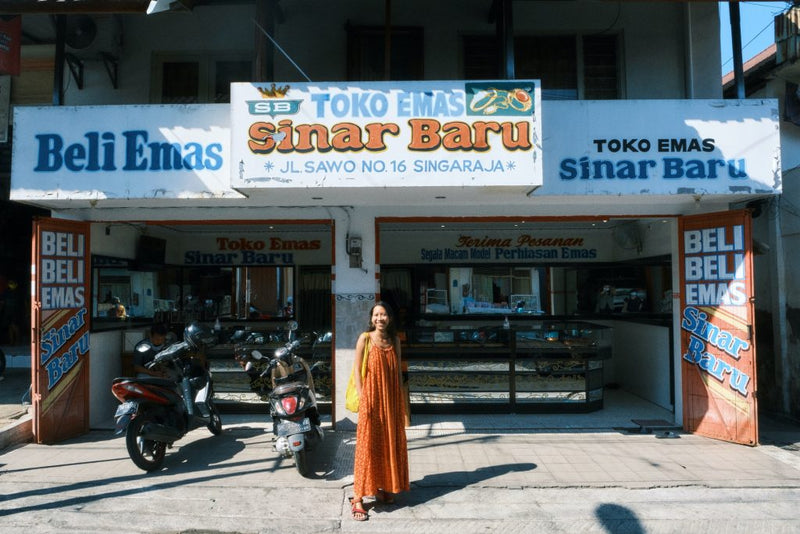 "Ini kali tiada yang mencari cinta di antara gudang, rumah tua, pada cerita tiang serta temali"
Senja di Pelabuhan Kecil – Chairil Anwar
The most vibrant colors don't come from dreamy tropical places, instead, they are blooming in between traders and salty warm water.
Ports are known to be the initial development of creating big cities in the world; New York, Hong Kong, Singapore, Shanghai, Rotterdam, Mumbai, and Lagos.
The similarity among these places is their location; they were coastal towns where culture from around the globe assimilated.
In Indonesia, some port towns bloomed into cities like Makassar, Jakarta, and Surabaya – some became quite and petite with noises from the sea and hinterland.
One of the quiet port towns is Singaraja, the Dutch colonial capital of Sunda Kecil (Lesser Sunda) from 1849 to 1953, located in the further north of Bali.
We decided to take a daytrip to Singaraja from our house in Denpasar, the capital city of Bali. Through the hot humid weather of Denpasar,
up to the north to the cool breeze of Bedugul, we drove for one and a half hour until we were welcomed by the hot striking sun
and the sights of toko emas (gold shops). The gold shops were only an introduction to Singaraja.
Shophouses in warm colors; cyan blue, yellow, forest green, and brownish orange, ibu kuli pangkul carrying buckets of fish
and vegetables on their heads, and bapak-bapak reading newspaper by the gang, the time surely pass really slowly in Singaraja.
There were three keywords to make a place called downtown; Pasar, Pemukiman, and Pelabuhan. Pasar Anyar is the source of life here.
In the middle of the pasar, you'll see gold shops standing next to each others. "Cari sayur apa, dek?" a vegetable seller asked me – her gold bangles danced on her wrist.
From a quick stroll at Pasar Anyar, we took our first stop, at a warung in Gang Mimbar to get a glass of coffee. Served in gelas belimbing, the coffee was a good kick to
wake us up after a long drive. After some chats with the owner, she told us that "Everybody in this gang is Muslim", the owner is a Balinese, born and raised in Singaraja.
Many houses in Gang Mimbar has the owners' name labeled on the door. They're owned by families from Arabian and Indian descents
who arrived in Singaraja as gold, spice, and textile traders.
Walking to the east, we stopped by to ask for direction as a Javanese man that we met at the gang, told us earlier about this famous Nasi Campur by Bik Dijah,
"Golek ae jenenge Bu Hadijah. Lurus wetan, menggok kiri."
We did not have any expectation of her Nasi Campur. Nasi Campur – rice dish topped with various toppings from noodle, veggies, chicken, beef, or tempe, has many faces in every part of Indonesia. Bu Hadijah is apparently the third generation of Maduranese in Singaraja. She wore daster, put kohls beneath her eyes – hair in high thick bun with statement-making scrunchies, and adorned herself in gold bangles. Her Nasi Campur came like how we remember Surabaya; salty, spicy, and gurih.
It tastes like it was made by Maduranese/Surabayan immigrants who wanted to have Rawon but too poor to afford beef; so they substituted it with perkedel, ayam ketumbar,paru goreng, and beef abon (dried pulled beef)
From Bu Khadijah, we walked around Pemukiman or kampung around Jalan Imam Bonjol and Jalan Diponegoro, passing Masjid Jami where generations of Bugis descents live around it, balconies full of plants and laundry, little warungs, signages of Arabian goods Sambosa (samosa) and Roti Maryam, and toko kelontong owned by families of Chinese descent. Kampungs in Singaraja is full of color and bustled in chats between neighbours;  generations of Bugis, Javanese, Maduranese, India, Arab, and Chinese who are now identify themselves Balinese.
We stopped by to have another lunch in the famous Syobak restaurants; Khe Lok. This dish is an assimilation of Chinese and Balinese culture. Crispy roasted pork in thick sauce made of Ngo Hiong spice, sweet soy sauce, and palm sugar. Surely, a sweet rendezvous in the middle of bustling kampung.
From the Pemukiman area, we walked to the harbour. The sand was black and the tide was low. We visited Sunda Kecil Museum where we stumbled upon the story of I Gusti Ketut Jelantik. Ketut Jelantik led the The Battle of Jagaraga against the Dutch from 1841 – 1849. He was the Patih of Buleleng, a genius in battle strategy; known as a dark horse – quiet in his defense, but would attack out of the sudden.
One of his defense is Puri Singaraja; a castle he built to lead The Battle of Jagaraga. We witnessed his story here; how The Dutch created the hoax that Ketut Jelantik took extra tax in Candu trade (opium) and how his family was attacked during a sacred Piodalan ceremony in Puri. Puri Singaraja is located in the administrative area of Singaraja, next to the alun – alun. Here, a beautiful Balinese compound house with a temple where the Piodalan took place became the witness.
In the same complex, lies a museum of Lontar manuscript and a small museum of Singaraja antique beads, betelnut box,
and photos of statues and Balinese cosmology calendars which are now kept in Netherlands.
Nobody knew exactly how the Dutch took them, nobody knew exactly how the bustles in Singaraja now remain quiet compared to the rush of Denpasar, the hip Canggu, or the touristy Ubud. But these locals who live by this coast know that the time does not stop here. With the cing-cing sound from their bangles, the aromatic smoke of Syobak restaurants, and the kohls beneath their eyes, Singaraja remains true to its multi-shades colors.