Longing for Hometown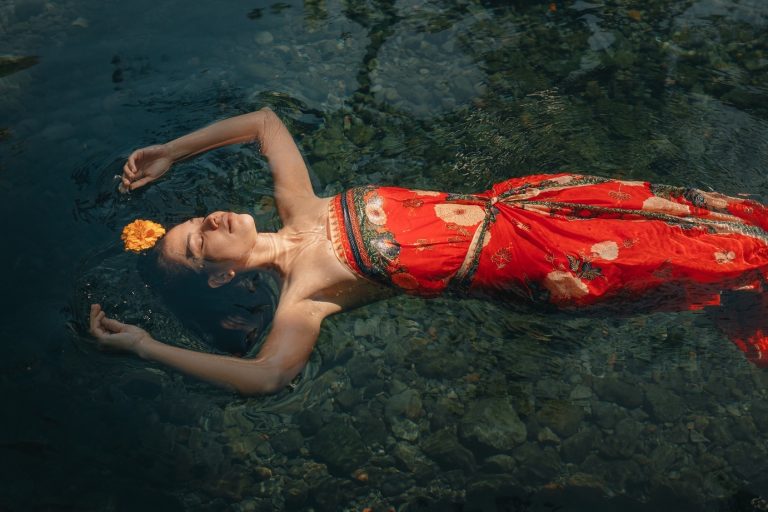 "Starting her morning as how she did it in those days, with the smell of marigold in Pasar Amlapura.
The whole space is full of marigold, moringa, and spice…"
Here's our first stop from our journey with Ayu Melati to her hometown in Karangasem, Bali.
We accompanied her for a couple days and met her family there, receiving a bundle of warmth from her and this beautiful coast on the east of Bali.

The smell of spices, fish, and flowers brought Ayu Melati back to her favorite pasar, Pasar Amlapura in her hometown, Karangasem.
Her feet wandered through each aisle. Her hands swaying between the gigantic pans of candlenut, coriander seeds, and cumin.
Her eyes looking for her favorite flowers, the beautiful yellow crown, Marigold. And there she stopped, picking up marigolds from the flower stall.
The petals, each is filled with her childhood memory; shopping in early morning, her grandmother, stories of goddesses, the hill near her house, the land beneath her feet, and the water that purifies….

"Tirta, sekar, ayu ..."
Tirta that means water, sekar that means flower, and the girl herself, Ayu, which means a delicate beauty.

When we drove that day, the sky was filled with ashes from Gunung Agung on the night before. Passing down the road to Karangasem, we're glad that the weather that day was beautiful; the sky was clear and the air was just simply, breath-taking.
We arrived at Ayu Melati's place in the afternoon after we accompanied her to do grocery shopping in Pasar Amlapura and dipping in Tirta Ujung.
Ayu welcomed us with some tea and unexpectedly, stories from her father's collection of postcards.
Afar, some children were shouting "Melati, melati…. " and some dogs were stepping with their feets on the pebbles, 'tap tap tap'… as if they couldn't wait to see her

Memory takes shape in various forms. From places, people, to postcards. Ayu Melati's father happens to be a Philatelist, who collects post office's goods such as postcards. From time to time, he's collected postcards from Bali to see how Bali is perceived from the eyes of tourist; be it legong dancers, the beach, rice paddies adorned with palm trees, or paintings of abstract statues.
While her father is a philatelist, ayu's grandmother is a priest. "How does my guardian angel look like?", asked Ayu to her grandmother back then when she was a kid. As a Balinese, Ayu has two (not just one) guardian angels, they're God and Goddess that protect her. Though their presence is not something you can hold, Ayu's grandmother always remind her not to forget them. Who are they?

The sun rose as the coconut trees sang their songs, we woke up with a view of ocean. Still with our bedroom eyes, we couldn't wait to dip our toes in the sand, kiss the earth with our feet, and float in between the breaks of the wave.
Ayu, half dreaming, half collecting her energy to wake up, hummed a song to the siren as she opened up her eyes.
The wave was waiting for her, the siren, sang back to her, calling her as she made her way to the ocean, her home….