Looking Back to Rediscover Further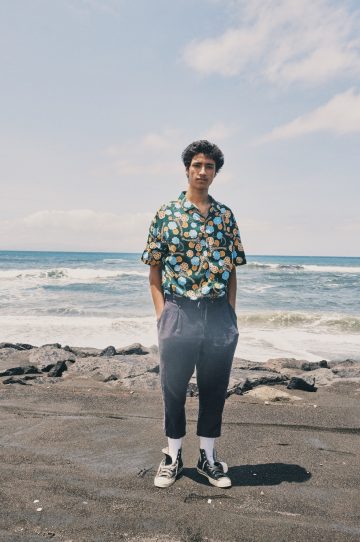 It's hard to define this year. Too many words needed to fill the whole sentence. Fun, difficult, hard, trying hard not to give up, struggling, experiment, reflection – so much more. The list will be so long. Instead of trying to fill in the blanks with words, let us see what has happened in the past 12 months of 2020!


January
"Aloha Shirt" Launch
Welcoming 2020, we were in such a good spirit!
Instead of launching our typical batik products, we
decided to go casual with a unisex shirt. It's breezy,
light, cool, and very relaxed for many occasions.
Aloha Shirt was designed by our textile designer,
Sasri. It is her first pattern design; fun and bold just
like her.
Elegant Afternoon
The combination of Batik and wood could never be boring! Our first editorial of this year has so much Kain batik with a combination of kebaya and shanghai-style top that could make every head turns when you wear it. It's down to earth, elegant, and timeless
Wrapping Kain-Hack
After receiving many questions and requests about Kain, we took a step to do an editorial mainly using Kain as the main apparel. From draping Kain for a casual hangout, going for a beach walk, and cocktail party, we got you covered!
February
Taking a Walk at Taman Bebek

Aaaah, isn't it nice to breathe some fresh air? On February, we took some walks with our friends. The first one is with Sofi. We went to this splendid garden just before sunset. The sun was very soft as it was the beginning of the hot season.
A Stroll at Kedungu Beach

The combination of Batik and wood could never be boring! Our first editorial of this year has so much Kain batik with a combination of kebaya and shanghai-style top that could make every head turns when you wear it. It's down to earth, elegant, and timeless
March
Masking in March
By March, the news of COVID-19 started to spark in Indonesia. We took this news seriously and we would like many people to take care of themselves better, including the ones around us. With our batik offcuts, we designed our batik mask. In the hope that it could be beneficial for us, our employees, and for Pithes out there.
April
Pithe Sedang Apa?
After the extended Nyepi on late March in respond to Covid-19, Bali was preparing for lockdown and our team was at home. We did a series with our team where they talk about the books they read, the recipes they cooked at home, and how they spent time with loved ones.
Photo Shoots in Our Store
In late April, we did our first photo shoot after more than a month of staying-at-home. It was a big step. We shot the mini editorial with our friend, Lauren, in one of our stores in Ubud. Intimate, physically distanced, and conscious.
May
Longing to be Somewhere
Following the stay-at-home theme, our whole theme was turned into this feeling of wanting to be somewhere else. Alone, serene, and just surrounded by coconut trees and the sound of the ocean.This photo shoot was taken in Tianyar village in East Bali.
Pithe Dongeng
An out-of-nowhere idea, taken on phone, and a week of studying Batik Cirebon! May is the month where we really had no idea how to do photo shoots with strangers and new people. So, instead of editorial, why don't we tell Dongeng (stories) about Batik? Later on, Pithe Dongeng would keep on telling more Dongeng about woven and ikat fabric from all over Indonesia!




June
Swinging Sparkle
Over the years of rediscovering Indonesian cultural artifacts, we stumbled not just upon fabrics, ceramics, but also jewellery. We worked together with Rhea as a stylist and we took pictures of our friends dolled up in these swinging sparkles. Each was styled in their own individual character!
Wrap-Skirt in Many Ways
Neo-Wrap Skirt is our all time best seller! It makes wearing batik really easy. Our in-house designer, Sasri, showed us how to style wrap skirt with anything in your wardrobe; shirt, pants, kemben, you name it!



July






Port of Call: Singaraja
What do you think of Bali? Coconut palms, beach, and Babi Guling? That's it? Well, let us take you to another side of Bali. In July, we did a road trip north to Singaraja. This Lesser Sunda capital is now the home of Muslims in Bali, immigrants from China, Madura, Jawa, and Bugis, and home to the famous Siobak Singaraja and the grassroot Madura-Bali Nasi Campur!
Puspita
After enduring years and years of violence and being shut from the history of Indonesia, Chinese Indonesians or Peranakan could finally embrace their identity in the early 2000s. For Peranakan women, their identity was even hidden during the revolution in 1940s due to the patriarchal culture and trying not to put their family in danger. Read more about Peranakan women and the infamous Kebaya Encim!
August
Manshirt with Narayan
Making batik as fun, as casual, and as usual as it is! Taken in our office, our friend, Narayan, joined us for a day by the beach. Here, batik is a staple for beach, gigs, supermarkets, and going for a date!
Beauty: Beyond
Many people would like to see how our Kain Panjang and batik products would be worn in plus size bodies. We heard it and we made it come true! As Kain Panjang is very versatile and we do make designs for plus size, our editorial Beauty: Beyond, is a celebration for every body!
September
Back at Home
Actually, from May to July, we kind of discipline about health protocols. Many families spent Idul Fitri at home doing virtual Lebaran. However, there was a huge spike in August that made the government enforce a second lockdown in Jakarta. Responding to this, we took an editorial at home; trying to reconnect with ourselves and enjoying longer time in zen (and with our favorite furry friend!)
Tenun at Home
Staying at home all the time is boring. Really. That must be a lie if you say no. However, why don't we doll up our rooms too? Make it prettier or even make it like an art gallery? We answer your questions with our tenun collection.
October
Making new friend: Brina
from Galeri Wastraku
Pithecanthropus team is filled with many young people. But our company itself is pretty old. As an over 20 year old company, it was really nice to meet new faces. Especially the ones who are as passionate as Indonesian culture as us. Meet Brina Paska on our collection of antiques and its matchy-matchy.
November
Sofi Eco Bag
Been a long time after our latest launching in January. Last month, we launched a simple product. Tote Bag that will easily hold your daily carry and festive enough for a fashion st
Talking 'Bout our Fabric Offcuts
In November, we took you to see the process behind our repurposed products. As a batik brand, we have many fabric offcuts that we can use to make many more items. Such as tote bag, purse, wine bag, and even jewellery.
December
In the last month of the year, we've been reflecting to ourselves.
How can we take care of our team better?
How can we communicate our message better?
How can we reduce more fabric offcuts and production waste?
How can we fight better?
How can we take a rest easier, in the middle of the rush?
See you next year, Pithes! Thank you so much for staying with us this year. It's been hard, really. But, we cannot thank you enough for sticking with us during this difficult time. Terima kasih, semuanya!